Hi David,
I just wanted to update you on my 2 dragon babies I received from Carolina Classic Dragons. First of all, let me just say that these 2 dragons are UNBELIEVABLY GORGEOUS! The pictures I saw of them before purchase are EXACTLY what arrived in the box from Day 1! There was no mistaking that they are the offspring of Pierre x Cinder and GoldenBoy x Zest! They are both full saturated with jaw-dropping, crazy-insane color–and their color doesn't dull or diminish even when they are cold (sleeping/lights out).  True to your word, they've continued to get even brighter (like their parents) this past shed!
And talk about 'temperament!'  These 2 babies have been extremely tame, easy to handle, and well-behaved dragons since their arrival!  To be honest, I really wasn't sure what to expect from a 'Large-Scale Breeder' because I've bought babies in the past from other breeders at expos & through websites who were clearly not handled regularly & shied away from hands. That's definitely not the case with these 2! They are the poster babies for Bearded Dragons and a testament of a great breeder!
I'd be remiss if I didn't mention the fact that I'm very impressed with the fact that, Yes, these babies actually DO eat their greens & veggies! Of course, I looked at your website carefully & read that you feed them fresh, organic greens daily–but the way they attack their greens every morning proves that you really do feed them what you say you do (unlike my other baby who looks at his greens like they're cute cage decorations…or cricket chow!).
Lastly, I want to thank you and your staff for always being available to answer all my questions and concerns–after my purchase!  CCD has always been open and made me feel welcome & comfortable.  I considered myself an 'experienced' dragon owner.  I owned 5 dragons for 3 years before I bought my babies from CCD, but it had been a while since I raised juveniles & a lot has changed with new husbandry products & techniques.  Your staff has always been patient and attentive in making sure all my follow-up questions were always fully addressed and answered.  That quality in a breeder can not be overstated when it comes to bearded dragons whose care, well-being, and livelihood depend on a very specific range of husbandry conditions.
It's very clear by the babies you produce that you love your dragons.  It is even more clear that CCD is dedicated not only to dragons but to the people who own & love them.  Thank you again for giving me such wonderful (AWESOME!) dragons!
Warmly,
Christina
I actually wanted to do this testimonial for people like myself; the ones who search for hours, the ones who want to be sure they are finding a reputable breeder that cares about the quality and health of their animals, and for the ones who might need to ask a question….or two or three or four. I also wanted to do this testimonial because David simply seems like a nice person, who deserves another 'kudos' amongst the plethora of accolades that can be found online from other bearded dragon breeders and owners. (Trust me, I searched!)
Not only was David nice, and friendly to converse with…he was patient with my questions. After all the hours of searching out other breeders; we just kept coming back to David's page. You can read -so- much about bearded dragons. It gets to the point where you come full circle and know nothing all over again. One person will say one thing and another person will say the opposite. I wanted to be sure, after reading all that, that the breeder I choose was also very knowledgeable and willing to answer questions. David kept impressing me. I felt I could trust what he said and that was important for me….because it is very important for me to give my pets a healthy and happy life.
Once we had that part narrowed down….it was time to pick out our dragon. So, we looked through the photos. It was the solid black eyes that got me. The whole family just kind of knew the little guy was the one for us. His arrival, that first little peek through the box, that first moment he was in my hand…I knew we had made the perfect choice, in both David and our new little Beardie. He was alert, obviously used to people and being held. He was bright eyed and curious. He ate some veggies within minutes….a very healthy, un-stressed and friendly fellow! I think his personality and sweetness are my favorite things about him….but Poe, as we named him, is handsome to boot! Obviously, David's knowledge and care carries over into the quality of these dragons. They look amazing!
I can't thank David enough. He has made our first journey into the world of Beardies a wonderful one. All those accolades I mentioned finding online about him? He deserves each one. I am so grateful all my careful searching lead me to him and thus to our Poe.
So, if you wondering….neither David nor his bearded dragons will disappoint. I can't recommend him enough!
-Kerri Morris
Hey David, this is Tim Ogburn.  My mom and I recently bought two dragons from you.  We got the Goldenboy x Suzie Q male and the Spike x Louise female.  Just wanted to let you know they are eating, growing and their coloring is really start to amaze me.  I have never seen a dragon as bright as my Ray (from Goldenboy x Suzie Q).  You guys are incredible, geniuses in my opinion. I am an up and coming breeder, actually my first clutch started hatching yesterday.  They are a Georgia Red Radiance Hypo Leatherback x Sandfire/Blood red.  They are already popping red pretty hard and I've been impressed so far.  I just wanted to let you know that I appreciate the deal you cut us and we plan on going to you for our breeders in the future.  I have high hopes for these dragons!  We are starting with hypo reds and will be moving into true 100% hypo citruses and citrus tigers.  I also wouldn't mind breeding some rainbow tigers.  Anyway I am including a picture of Ray.  It's insane how bright he is for such a young age!
-Tim Ogburn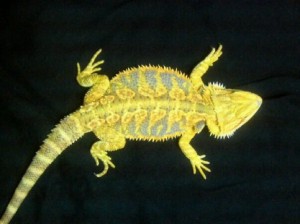 "Hey David, Thanks so much for all your knowledge and time you have giving me out of your busy schedule. I love my two awesome dragons! They are growing big, doing well and have extreme color at only 4 sheds!!! Carolina Classic Dragons is definitely the place to go if your looking for high quality dragons of crazy color where dragons and exceptional customer service comes first. I look forward in working with you more in the near future. Thanks again! "
-Barrett
Hey David,
She arrived safe and sound, nice packing job. She is such a gorgeous dragon!!!!! WOW!!!! I think she likes her new home very much, very curious and already basking in the light on her perch. She has already had some romaine lettuce this morning and this evening she had around 8 Dubia Roaches, I didn't want to over feed her. No problem with her appetite!!! How many roaches would you recommend at one feeding? Of course no larger than the width of her head. We were thinking of feeding her AM roaches and leave her with a salad and then again the roaches in the PM. Do you think that would be good? Well David you are the Man!!! Thanks so much for picking the perfect dragon for us. I will send you some pics once she gets more familiar with her surroundings. Thanks again.
Best Regards,
Kirk
"Thank you for such a quality critter. "Gobi" is loved and doing great. We look forward to sharing your team with all our prospecitve beardie clients. A special thanks from Dr. Schaller of Willow Creek Animal Hospital."
"Omg! It's gorgeous I can't believe how bright the yellow is already. Are you sure you didn't want to keep this one? I swear it has better color than any of the adults I've seen posted, aside from spike of course, and it's just a baby! I'm sooooo excited to see this little one develop! You rock!  I'll be sending Ton of pictures your way!"
-Jamie
"Dave,
Bob, the Citrus Tiger Beardie you sold me, is awesome!  My whole family is
crazy over the little guy, even my wife who was a naysayer.
I'm sure we'll be back for more!"
-Thanks, Jeff
"Hi David, I warned you yesterday that we may have a few questions. I wanted to know about a water dish. Should we have one? I have been reading a lot of info from different sites and they go back and forth. We put in a mix of greens but he doesn't seem to be interested in them. Is that something that he will like more as he grows? He LOVES his crickets and worms though. Our crickets are LOVING the Insecta grub. How many crickets a day should he be eating? Worms? Thanks for your time yesterday and any help today and in the future! We are loving Rexy!"
- Thanks, Ryan
"So I got the dragon and  all I can say is that he was worth every penny. I posted pictures on myspace, facebook, and deviantart making sure to let people know that your the first and last stop they will need to make for good quality, selection, and any information concerning their new or future dragon.. Your patience with me and all my questions was very much appreciated. You made sure that I got exactly what I wanted. As far as I'm concerned, your my guy for any future dragons I purchase, and I intend to do just that later down the road. Thanks again David, if only all breeders were as good as you."
" David, I just wanted to write you to say how happy we are with "Calisto". She is doing great. She is very alert and active, and has really grown since her body and head shed. We're still waiting for her tail to shed, but we couldn't be happier with her. It seems like she is getting bigger, stronger, and prettier everyday! My girlfriend is so attached to her, she's already talking about wanting a male for her birthday! Thanks again David. We couldn't be happier that we bought our dragon from you! "
-Thanks, Juston
"David, You were so helpful and had so much information that you willingly shared with us at the Reptile Show. You were obviously busy, but didn't rush us and helped us make a well-informed decision. Stacey handles her girl daily and we are currently doing weekly measurements to document growth. She has shed out again and you were right – her color is becoming more vivid! You are a valuable resource – we thank you for your time and availablity for our questions. By all means – use my words as a testimony – you are a rare commodity in the business world – one who keeps his word!! "
-Thanks again, Marion
"DAVID I LOVE YOU MAN!!! No homo they are awesome seriously im speechless. I soaked them like you instructed luke warm water and wow!!! They are fine nice and healthy, they are huge I thought they were going to be smaller. Great job man seriously."
-Justin
"Thanks for the email. the bearded dragons are doing great and my bearded dragon owning friends are all jealous. i cant wait for them to get some more size and color. they are eating a lot of crickets everyday and look very healthy. i will definitely send a picture in a month or two and certainly keep in touch. thanks a lot and have a nice day."
-Laurence
"Hey David, this is Nick. I just wanted to tell you that I got home ok with my new baby beardie and am extremely pleased with her! Thanks again!"
-Nick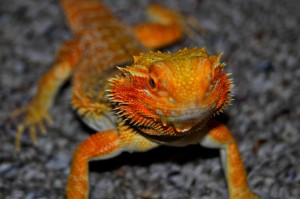 "Hi, my name is Laurene and I purchased a pair of bearded dragons from you during the reptile expo in Raleigh last May. They are both extremely colorful and doing great. When i got them you last year, you requested pictures if i ever had time to send them. Here are some pictures. "
"Hi David, I wanted to send you some pictures of Spike. He actually looks like he's going to start shedding his legs and maybe part of his tail soon. Spike's been with us a month already and I love him so much, as does my daughter Kate. I thought you would enjoy seeing a few pictures of him. He's over 7 inches now."
-Elyse
"David, Just to let you know Caliente "Cali" is doing great! She was eating like crazy last week and the eating has slowed down a touch…she's still pooping every day so all is well I guess. She'll eat 4-6 roaches and 4-6 crickets per day (twice daily) whereas before it was 20 at a time. She doesn't give her collards a glance yet but I still put some fresh in each day. I think she's getting ready to shed some as evident by some skin around her mouth. Seems like there is some orange and yellow starting to show under the skin of her legs and tail…I think she's going to be awesome just like you said! She also has had quite a bit of yellow popping up around the edges of her mouth that have gotten brighter each day."
-Ashley
"Our adventure started with a simple wish list—a long spoken wish put to paper for the holidays. This spurred months of research! First we had to decide if another pet was practical. Next I had to determine if we would be able to car for a bearded dragon. After that I wanted to find out how to meet the needs of a bearded dragon. Finally, we set out to find our dragon. I immediately eliminated the idea of a pet store dragon. Next I looked at dozens of bearded dragon sites—supplies and breeders. Being overwhelmed at the differences in care suggestions, I began e-mailing and calling a few breeders. I sent out a 'blanket' e-mail to more than five sites (after eliminating many breeders based on various concerns). Finally, I narrowed it down to a few that looked promising. I had one breeder — who I had some e-mail discussions with — in a rush to sell me a dragon immediately (this was about a month before I wanted to make the purchase). I spoke to two other breeders who gave me conflicting information. One of them made it sound like I needed next to nothing to care for a dragon—something that all the sites and breeders make clear was not true. The other breeder was promising, but did not seem interested in answering all the questions I had. Finally, I found Carolina Classic Dragons web-site. I read the testimonials and noted that several people were pleased that David went above and beyond the call of duty. I looked around at the site and felt like it would be worth a try…I e-mailed David a very long list of questions. He suggested I give him a call. He was extremely helpful. He patiently answered all of my various questions. He truly went the extra mile. I had several concerns and he directed me to suppliers that would fit my needs. He worked with my time frame. He even mentioned having his children handle the dragon more frequently to help with the hand taming. Finally, he answered questions about the live feeders—this was so helpful. He provided an amazing amount of information and also answered questions about the conflicting information I was finding. His help was truly invaluable. Finally, we love our dragon. Brisbane is healthy and absolutely beautiful. He adjusted so well and has settled in perfectly. As he has gone through his shed, his coloring has come out even more lovely than we expected. I highly recommend David Freeman and Carolina Classic Dragons!"
-Sally Anne Perz
"Hi David, Our little dragon is doing great. It is munching down more crickets and dubias then we can provide! It loves hibiscus flowers, though it is being quite finicky with the nutritious salad we put together. We wanted to let you know how much we enjoyed the process of getting our beardie. You were so hospitable to our family of five after we made the trip to see in person your wonderful group of dragons and your quite impressive breeding facility. The children are still talking about the trip and we are already looking forward to eventually getting another dragon in the future. Not only were your selection of dragons healthy, clean, active, and bursting with colors, your hospitable and personable attitude went a long way! No need to go somewhere else for bearded dragons! Thanks again."
-The Eleftherakis family
"Hi Yea she arrived on time and was loved by everyone. She is great. I can't wait to see how she looks when she grow up because the colors she is showing are nice. I will keep you in mind next time i am looking for another dragon. Thank you for great service"
-Cecil
"Hi Dave, Just thought I'd drop you a line to let you know our boy is doing great. We named him Draco. He is eating well and very active. Growing like a weed. We just measured him and he's 9 inches long. He shed last week. He's beautiful, lots of burnt orange and yellow. He tries to jump out of the container we feed him in to get to the roaches. He loves to eat. Prefers collard greens to mustard green. We feed him crickets, roaches and a worm or two. We sure do enjoy him. Thanks again."
-Marlis
"Thank you so much for your time and expertise at the show. I was amazed that you walked me over to one of the vendors to show me about the equipment I'll need. Even though you were surrounded with people, you always made time to answer my questions. Thank you for my beautiful BD- I can't wait to watch him grow up. It was a pleasure to meet you!"
-Helen
Thanks this guy is insane. He doesn't appear stressed at all. He is really unbelievable. He acts like he's been here all along. Great Dragon. You know your at the top when you can let dragons of this quality go. Makes me wonder what you have hiding there in your bins. Your hard work is paying off. I hope someday that I can produce dragons on this level. My hats off to you. Thanks again.
-Dan